Ayres Sensory Integration® for the Child with Autism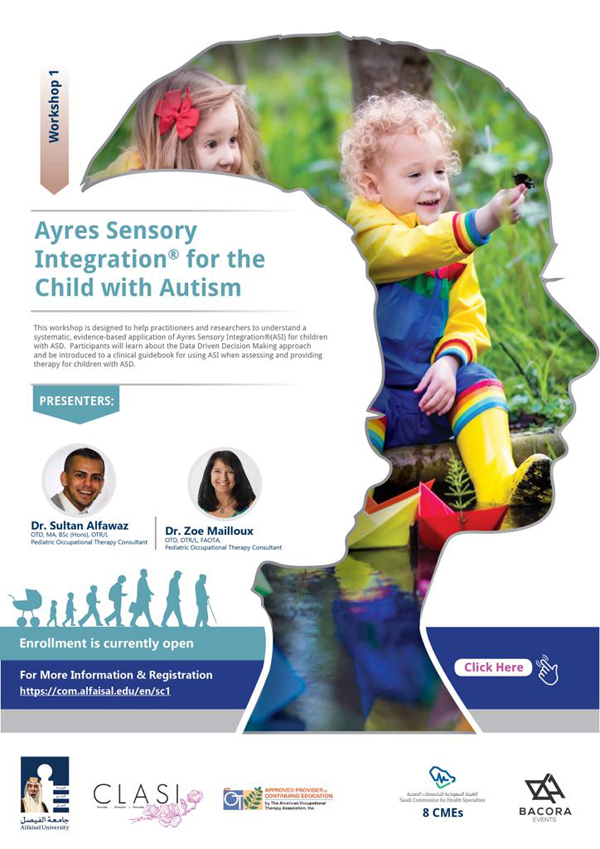 This workshop is designed to help practitioners and researchers to understand a systematic, evidence-based application of Ayres Sensory Integration®(ASI) for children with ASD. Participants will learn about the Data Driven Decision Making approach and be introduced to a clinical guidebook for using ASI when assessing and providing therapy for children with ASD.
Register Here
For Enquiries :053 384 8383
Date & Location: Alfaisal University, Riyadh July 15th, 2019.
Workshop Schedule
7:00 - 8:00- Registration
8:00 - 9:00 -Introduction and Core Concepts of Ayres Sensory Integration® (ASI)
9:00 - 12:00- Major Patterns of Sensory Integration Dysfunction in Autism
12:00 - 1:00- LUNCH
1:00 - 2:30 -Research in ASI for children with ASD
2:30 - 4:30- Intervention Considerations
4:30 - 5:00- Review Q & A

Our Presenter
Dr. Zoe Mailloux
OTD, OTR/L, FAOTA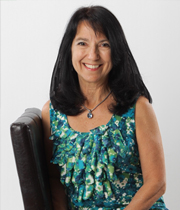 Dr. Zoe Mailloux, OTD, OTR/L, FAOTA is nationally and internationally recognized for her expertise in child development, sensory integration, autism, test development and occupational therapy. With more than 35 years of experience, Zoe has been a champion for increasing understanding of individual differences, with the aim of enhancing participation in meaningful ways, for people of all abilities. As research assistant to Dr. A. Jean Ayres, the originator of sensory integration theory, Dr. Zoe began her career with a dedication to recognizing the importance of early sensory and motor experiences on learning and behavior. With more than 30 years, experience in executive leadership of non-profit therapy practices, Dr. Zoe has been known for developing innovative programs to support children and families. She also has an impressive record of research and scholarship, with more than 30 published journal articles and textbook chapters and over 500 presentations at workshops and conferences, worldwide.

Continue Reading
Who Can take this Course
This workshop is open to health-care professionals with college/university degrees in occupational therapy, physical Therapy, speech pathology, psycholoy, and medicine.
Learning Objectives
Following participation in this workshop, participants will:
Understand a systematic, evidence-based application of ASI for ASD.
Demonstrate an increased awareness of the appropriate use of ASI for children with ASD.
Be able to apply Data Driven Decision Making using ASI.
Utilize a clinical guidebook for using ASI for children with ASD.
Register Here
CONTINUING EDUCATION UNITS: This course has been approved and accredited by the Saudi Commission for Health Specialities and the American Occupational Therapy Association for 8 CMEs.
Cancellation policy
There will be no cancellations/refunds offered. In the case of emergencies, we will consider on a case by base basis.