CASI: Module 1 AYRES SENSORY INTEGRATION THEORY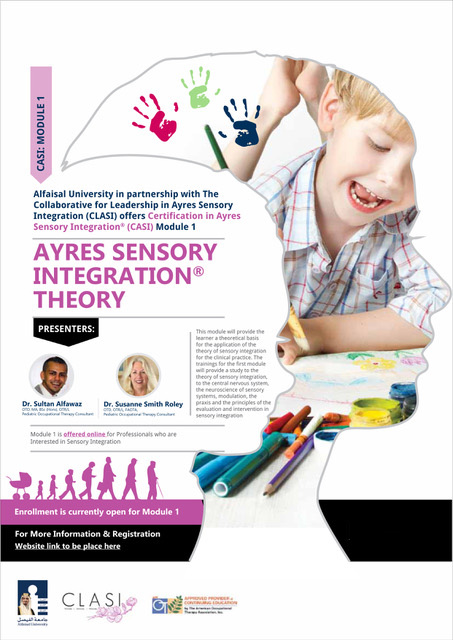 The latest advancements in neuroscience support the application of the theory of sensory integration as an approach to dealing with children, adolescents, adults and older adults. This module will provide the therapists a theoretical basis for the application of the theory of sensory integration for the clinical practice.

The trainings for the first module will provide a study to the theory of sensory integration, to the central nervous system, the neuroscience of sensory systems, modulation, the praxis and the principles of the evaluation and intervention in sensory integration. This online module provide in-depth lectures accompanied by supplemental videos and assignments to enhance your experience.

We strongly advise that prior to starting that you familiarize yourself with the seminal texts such as Ayres (2005) Sensory Integration and the Child, available through www.wpspublish.org. Click here to view the required and suggested readings.


DATE AND LOCATION: Alfaisal University, Riyadh April 26-29, 2019.
WHO CAN TAKE THIS COURSE: Module 1 is open to all who wish to learn about ASI theory and is a prerequisite to all other CLASI modules.
LEARNING OBJECTIVES. After the course, participants will be able to:
Define scientific theory, model and frame of reference
Recognize core principles and concepts of Ayres Sensory Integration® Theory
Describe the common patterns of sensory integration dysfunction and their proposed neural correlates.
Describe the neurological structures and their functions involved in the process of sensory integration;
Describe the relationship between sensory integration, and participation in every-day activities and occupations
Describe the functional implications and occupational factors on the basis of the changes of sensory impairments;
Discuss the praxis and its role in performance and behavior
REQUIREMENTS AND ASSIGNMENTS: Click here to view requirements and assignments for each CLASI module and the full CLASI Certificate in ASI program.
COURSE INSTRUCTOR: Dr. Susanne Smith Roley OTD, OTR/L, FAOTA, Dr. Sultan Alfawaz, OTD, MA, BSc(Hons), OTR/L
CONTINUING EDUCATION UNITS:

Module 1 will provide 30 hours of training including the assignments. CLASI is an approved provider of continuing education units (CEU) by the American Occupational Therapy Association. M1 is also approved for CEUs by the California Physical Therapy Association. The following AOTA CE classification codes apply for M1: Domain of OT, Occupational Therapy Practice.
Click Here to Register
Cancellation Policy: There will be no cancellations/refunds offered after user has accessed the learning management system. In the case of emergencies, we will consider on a case by base basis.